Our Vision
To be so effective that we are able to be helpful to others.
9th Annual Car Show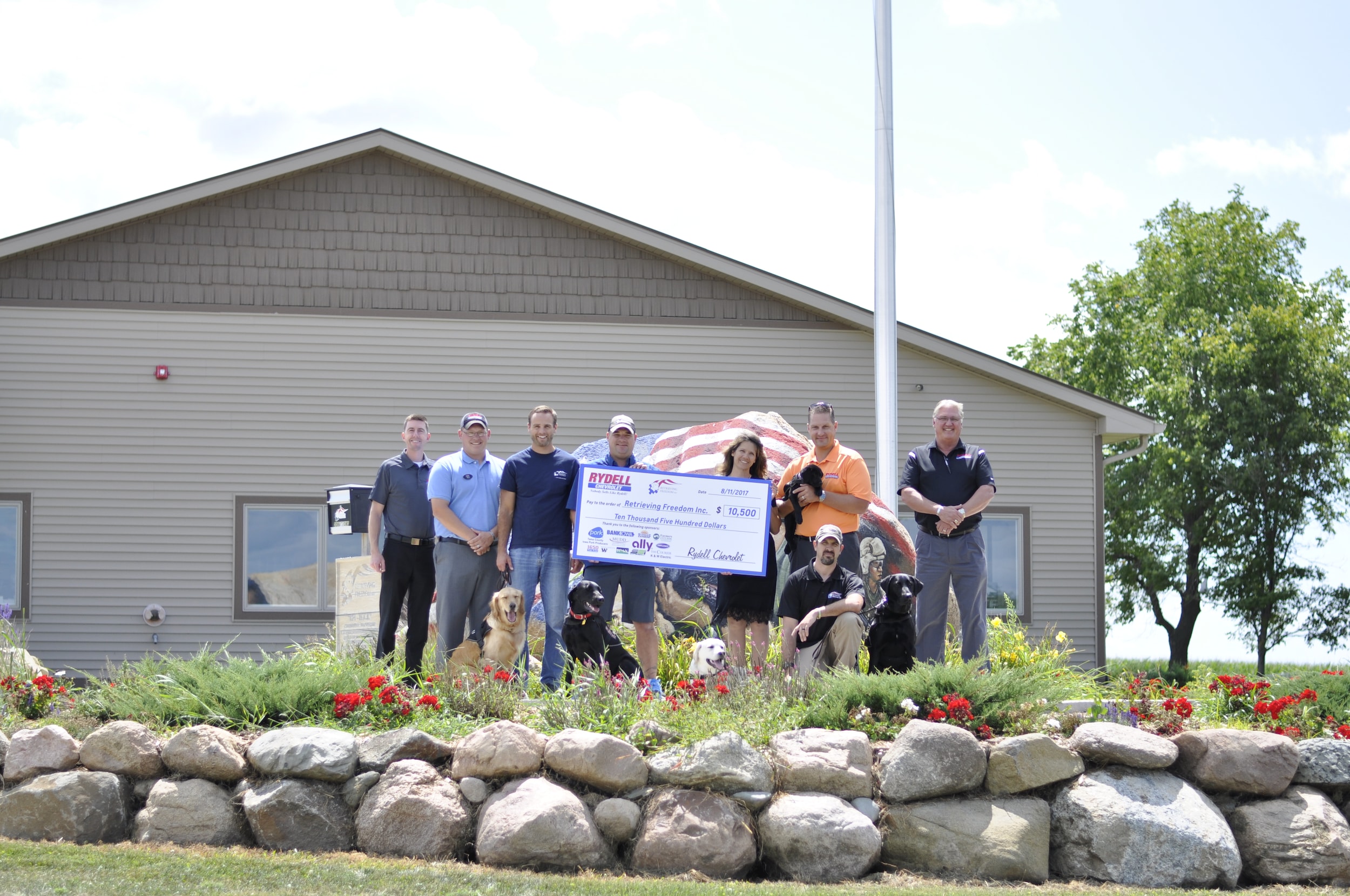 Waterloo, July, 2017 - The ninth annual Rydell Chevrolet Car Show took place July 9 at Rydell Chevrolet. Numerous makes and models from a variety of decades were among the 191 vehicles represented. The number of registrations was a new record for the annual car show.
Top 25 trophies were awarded, as well as a Veteran's Choice award. The Veteran's Choice was presented by a veteran in the process of receiving a service dog from Retrieving Freedom, a non-profit organization that trains service dogs for placement with veterans, children with autism and adults and children with diabetes.
All proceeds from vehicle registrations and T-shirt sales went to Retrieving Freedom. Monetary donations were also made by Tama County Pork Producers, Mudd Advertising, Ally Bank, Sunrise Catering, Farmers State Bank, Cars.com, Bank Iowa, the Courier, K & W Electric, ICAN Cable Advertising, Woolverton Printing, Coloff Media and PDCM Insurance. In all, $10,500 was raised for the fundraiser.
For more information about Retrieving Freedom, Inc, please visit www.retrievingfreedom.org.
Rydell is 'planting its roots' in the community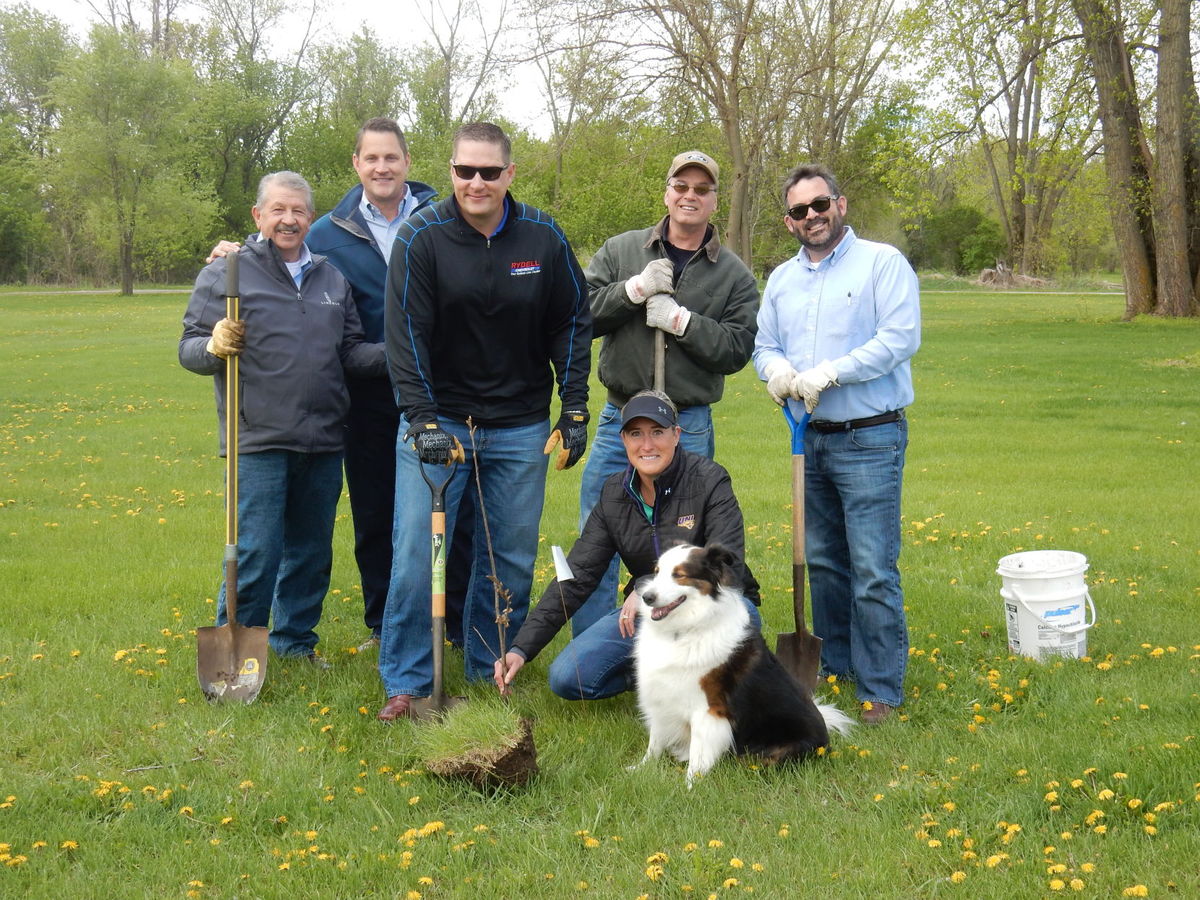 Independence, May, 2017 - Rydell Auto and its employees planted trees in Independence on May 2 behind Lions Field. Volunteers from Rydell of Independence, along with the Parks and Recreation team, planted over 30 trees. Shelby the Dog was also around supervising the volunteers' work.

"Now that we are part of the community, we wanted to get involved and begin to plant our roots in Independence," said dealer Matt Halbur.

The Rydell family acquired Pinicon Ford Lincoln in July of 2015 and implemented their "Best Price, Up Front" philosophy on all vehicles as well as a "5-day like it or return it" money back policy and 30-day exchange policy on all pre-owned vehicles. Dealer Matt Halbur stated "We are very excited about Independence. Our goal is to be the market leader and provide unmatched quality automotive products and services to our customers. If you haven't experienced the way we do business, I invite you to stop in and see for yourself. We feel we offer a truly different buying experience." October 10th, 2016, they changed the name to Rydell of Independence. Additionally the dealership has added the Chrysler, Dodge, Jeep and Ram franchises.

"This is a phenomenal opportunity for us to bring four well-known brands back to Independence and also add a name consistent with great value, customer service, and ease of doing business ", stated John Butler, General Manager. "Our customers can expect to see the same familiar faces when they walk into Rydell of Independence and they can expect the same hometown atmosphere and excellent service that they are accustomed to", Butler concluded.
Fallen soldier's dad, employer rebuilds auto for needy vet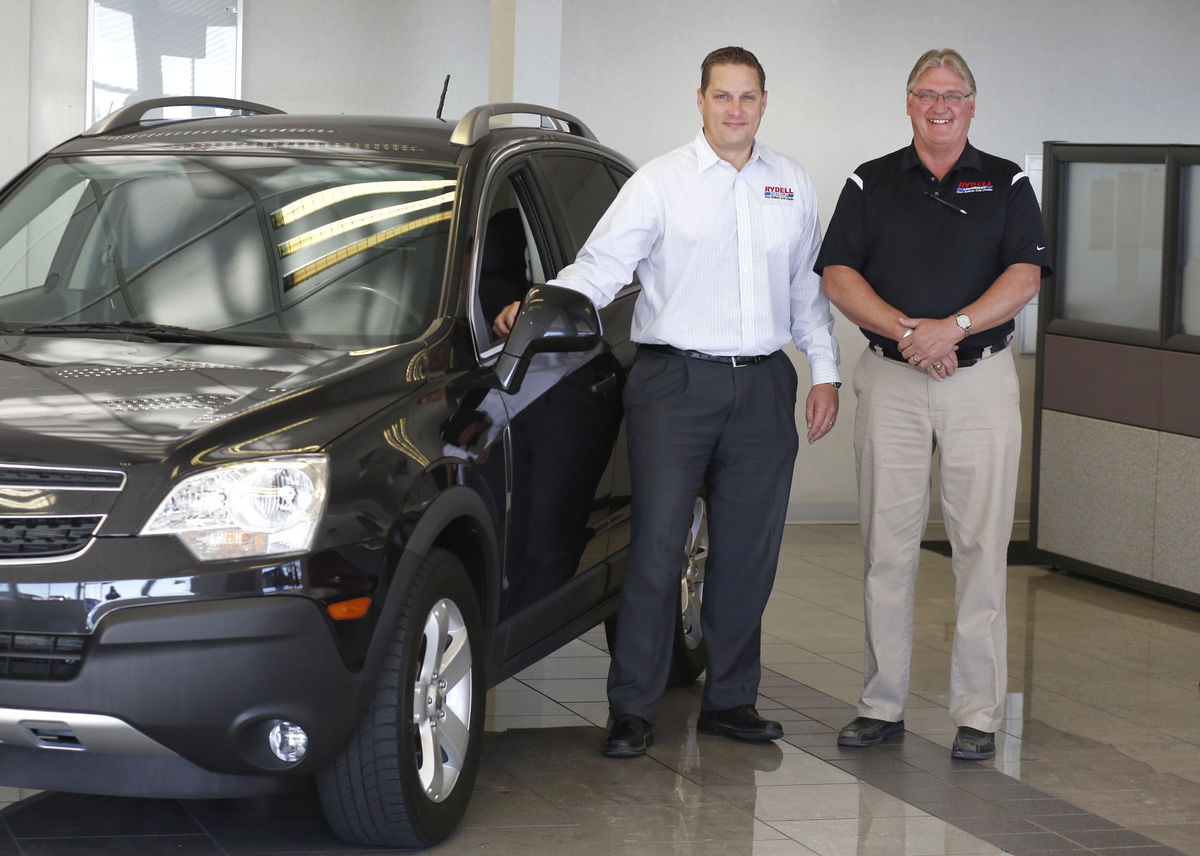 Matt Halbur and Brad Vaughn of Rydell Cheverolet stand next to the 2012 Chevrolet Captiva that will be given to Afghanistan and Iraq veteran Brandon Hayden of Davenport as part of Progressive Insurance's "Keys to Progress" program. Photo and article courtesy of The Courier
Waterloo, November, 2016 - Brad Vaughn didn't have to think twice. Neither did his bosses.
Vaughn, who lost a son in Afghanistan in 2007, had an opportunity to help another Afghanistan and Iraq veteran down on his luck.
Progressive Insurance selected Vaughn and his employer, Rydell Chevrolet, to rebuild a totaled 2012 Chevrolet Captiva mid-size sport-utility vehicle for Brandon Hayden, a U.S. Army Afghanistan and Iraq war veteran of Davenport. Personal circumstances recently left him temporarily homeless and without a reliable automobile.
The initiative was part of a "Keys to Progress" program initiated by Progressive in 2013. It has donated 300 reconditioned vehicles to veterans and veteran families since then. When Progressive chose to help an Iowa veteran, it also offered an Iowa dealership, Rydell, the opportunity to participate in large part because of Vaughn, who manages Rydell's collision center. Vaughn's son, Travis, was killed in a helicopter crash in Afghanistan in 2007.

"We do a lot of work with Progressive, we've got a good relationship with them," Vaughn said. "What they did was get a total-loss car from their yard in Des Moines. And they picked it to suit the need of the veteran." Hayden, 33, has three school-age sons.

Vaughn said he wanted to be as good to Hayden as Rydell has been to him following his son's death. "This is one big family," Vaughn said. "When I lost Travis, I was off for maybe five weeks." The dealership made sure he was provided for financially. His coworkers also were respectful. "Jim Rydell (dealership owner) came back to talk to me and see how I was doing. I said 'Everybody treats me like family.' He said, 'Well, think about it, Brad. You're here just about as much time with your coworkers as you are with your family.' He's absolutely right. They just stood behind me on everything we thought we should do with military." The dealership has supported Brad's wife Kandie's annual "Shower of Gifts" initiative to raise donations of personal items to residents of the Iowa Veterans Home in Travis' memory.

Mike Decker, a Progressive claims manager, said Hayden is the first Iowa veteran selected as a "Keys to Progress" recipient and Rydell the first Iowa dealership selected to do the work. "Knowing Brad's situation, we thought it'd be something they'd be interested in," Decker said.

"This was a deal that Progressive brought to us because they knew of Brad's history with Trav, and our support of veterans and veteran services over the past decade," said Matt Halbur, general manager of Rydell in Waterloo. "It wasn't even something that we had to think about. It was something that we jumped right on. This whole deal fell right into our wheelhouse in terms of what we like to do, and a group of people we like to help."

In addition to regular support of Kandie Vaughn's "Shower of Gifts," Rydell put a custom-designed "fallen soldier" motorcycle on display in 2012, which was raffled off to raise funds for that effort. The dealership also has donated proceeds from an annual July classic car show to the Retrieving Freedom service dog organization in Waverly and Cedar Valley Honor Flight.

Jim Rydell also donated a Jeep Wrangler fitted with disabled-accessible improvements by disabled veterans to Paralyzed Veterans of America, which was sold to raise money for that organization.

"Very veteran friendly," Vaughn said. LKQ Corp.'s Nashville, Tenn. location and the AutoPlus auto parts store in Evansdale helped with the restoration project on Hayden's new vehicle. It also was checked by Rydell's service department. "We make sure all our vehicles are right, but we really went over this with a fine tooth comb because of who it was going to," Halbur said.

Rydell representatives will present the vehicle to Hayden Thursday at Progressive's St. Louis service center. He will be one of more than 100 veterans receiving vehicles through the initiative. Decker said Hayden also will receive about $10,000 worth of furniture and other household items donated by Progressive.

In a letter to Progressive, Hayden - recently divorced with shared custody and needing a dependable vehicle in which to transport his sons - wrote: "I have to be honest and say it's more in my heart to ask for the vehicle for my children's sake than mine ... . As a veteran of Iraq and Afghanistan, it truly impacts my heart to know that people are paying it forward in such a manner ... thank you from the bottom of my heart and my family's for all that you have done and will continue to do." He noted his sons want to go to a Chicago Cubs baseball game.
8th Annual Car Show Benefit Provides Donation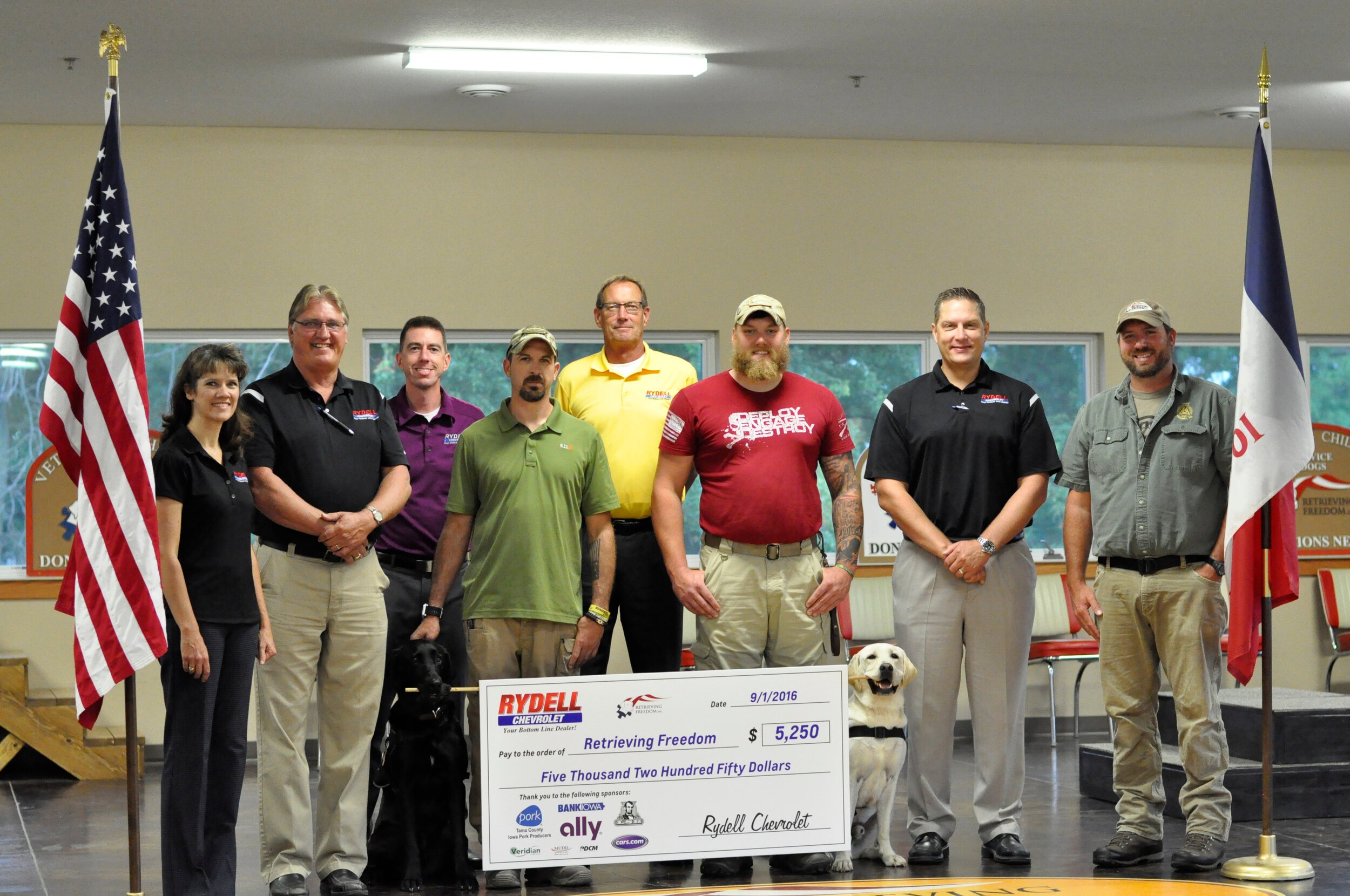 Waterloo, September, 2016 - Rydell Chevrolet recently made a cash donation to Retrieving Freedom, Inc., a non-profit organization that trains service dogs for placement into three main markets, Veterans, children with autism and adults and children with Diabetes. The dealership held its 8th Annual Rydell Car Show Benefit in July and all proceeds from t-shirt sales and vehicle registrations were donated to Retrieving Freedom, Inc.
During the show, Tama County, IA Pork Producers provided quality grilled pork sandwiches and donated proceeds raised to Retrieving Freedom, Inc. Monetary donations were also made by Ally Bank, Bank Iowa, Lincoln Savings Bank, Cars.com, Veridian Credit Union, Mudd Advertising and PDCM Insurance. In all, $5,250 was raised for the fundraiser. A monetary donation check was presented by Rydell Chevrolet to Retrieving Freedom, Inc. on September 9th.
Matt Halbur, General Manager of Rydell Chevrolet, praised Retrieving Freedom for their work and stressed the importance of being involved in the community, "Retrieving Freedom is an amazing cause that we are proud to support. I have seen first-hand how this organization changes the lives of veterans with PTSD and children with Autism. I am thrilled that our dealership has been able to give back to the community in this way."
Halbur also mentioned how a car show benefit on a rainy day just doesn't happen without the support from the community, "Although it rained most of the day, our 8th Annual Rydell Car Show Benefit was a success thanks especially to loyal car show enthusiasts, sponsoring partners, and our incredible employees who volunteered."
For more information about Retrieving Freedom, Inc, please visit www.retrievingfreedom.org.
Thanks again to our sponsoring partners. For more information visit their websites below: www.iowapork.org
www.ally.com
www.bankiowa.com
www.mylsb.com
www.cars.com
www.veridiancu.org
www.mudd.com
www.pdcm.com

Rydell Donates Jeep to Benefit Veterans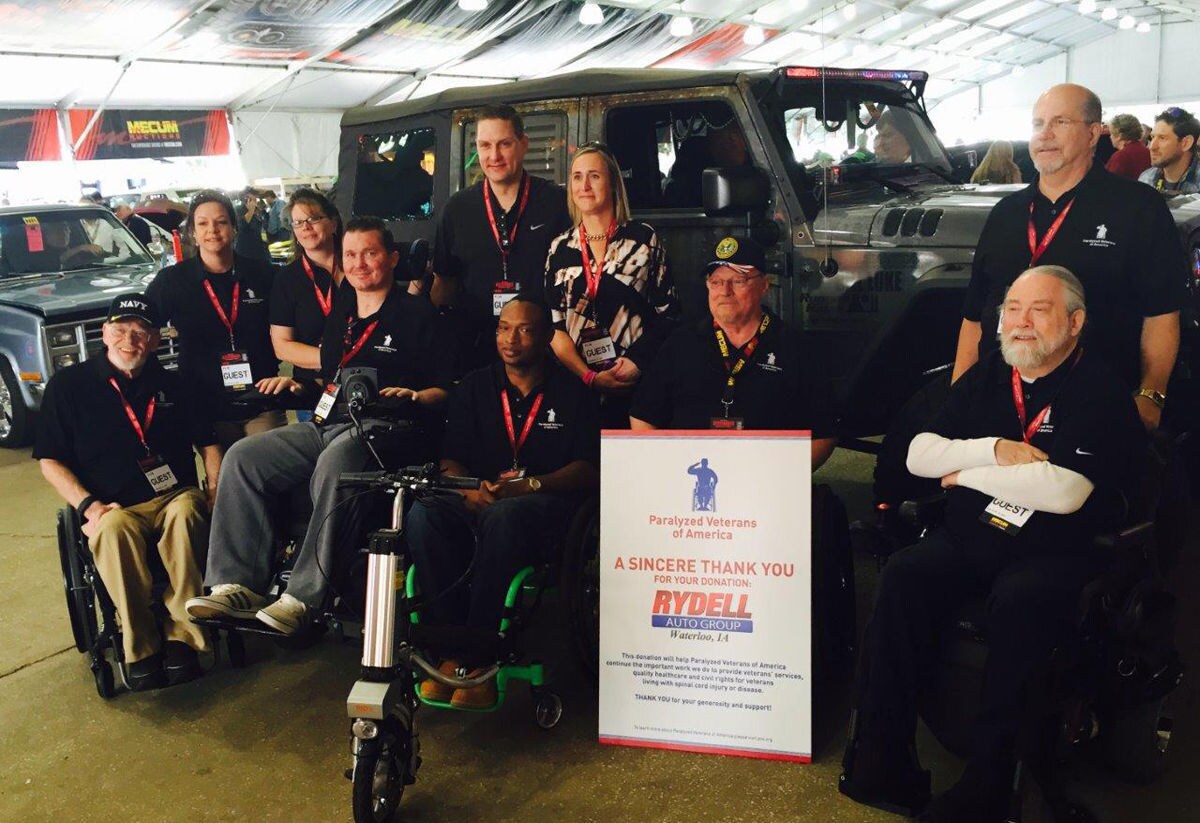 Members of the Paralyzed Veterans of America thank Rydell for its custom Jeep donation to a recent auction in Florida. (Photo courtesy of wcfcourier.com)
Waterloo, February 2016 - A new Jeep Wrangler, donated by Rydell Chevrolet, was auctioned on Jan. 20 for $60,000 at Mecum Auction in Kissimmee, Florida.
All proceeds went to Paralyzed Veterans of America, an organization dedicated to veteran service, medical research and civil rights for people with disabilities.
PVA tries to make sure veterans receive their earned benefits, monitors care in VA spinal cord injury units and funded research and education, according to the group.
The custom Jeep was "upfitted" by Cutting Edge 4x4, including a 4-inch Teraflex LCG long flex-arm suspension system; Rugged Ridge aftermarket front and rear bumpers, fenders and winch; Level 8 Pro 17-inch wheels; 38-inch Falken Wild Peak M/T tires; Rigid Industries LED lighting; a 50-inch light bar; D2 A-pillar and bumper LED lights; cargo rack; and surprise straps grab handles.
In November, Rydell Chevrolet also donated $7,265 to Retrieving Freedom of Waverly.